Another chapter in the incredible story of Parade College's Vienna Mozart choirboys has closed with the passing of Kurt Schuster at the age of 90.
Kurt, together with John Eder, Ernst Koller, Olav Schappacher and others - was a member of the feted Vienna Mozart Boys Choir – one of a number of future Old Paradians ranging in age from nine to 14 who found themselves stranded in Western Australia when war was declared in Europe.
That happened on Sunday, September 3, 1939, after the choirboys had performed at Perth Town Hall to complete a gruelling world tour . . . and Master Schuster was two months short of his 10th birthday.
"On the Monday our ship was supposed to leave for home from Fremantle," Kurt said in a to-camera interview for the Old Paradians' Association in 2014.
"The day before, war was declared. We were in a hotel at the time and of course all shipping was stopped. We couldn't move."
The youngest of two children of Franz, a violinist, and Leopoldina ('Poldi') Schuster, Kurt followed his older sister Gertrude ('Trudi') into the world when he was born on November 8, 1929 in Vienna.

As a child, Kurt stood in the street just ten metres from Adolf Hitler as the Fuhrer passed by in an open-topped car. Another of his enduring memories is climbing the 100 steps to and from the family home on a daily basis, due to the fact that the Schusters lived on the fourth floor of an apartment building bereft of an elevator.
As these were depression times, life was particularly hard for the breadwinner – and Kurt recalled his father joining fellow musicians in playing Viennese waltzes to beergarden audiences to get by.
Though he couldn't exactly recall when he first began to sing, Kurt conceded that he used to break out into tune from the moment he awoke in the family home and that his singing only intensified after he discovered that the violin given to him by Franz was too heavy for him to play.
With the support of his father, Kurt got an opportunity to audition for the Vienna Mozart Boys Choir at the tender age of nine. On being accepted in early 1938, Kurt first performed with fellow choirboys under the watch of the stringent Musical Director Dr Georg Gruber at Berlin's Wintergarten Theatre through what was a ten-day concert series - which preceded a 21-day tour of the Rhineland.
It was whilst on these sojourns that Kurt, the baby of the choir, made lasting friendships with Franz Denk and Walter Schopfhauser, who lived not far from the Schusters and would soon enough join him at Parade. To quote Kurt, the tours proved to be "wonderful experiences for me because I hadn't been out of Vienna before".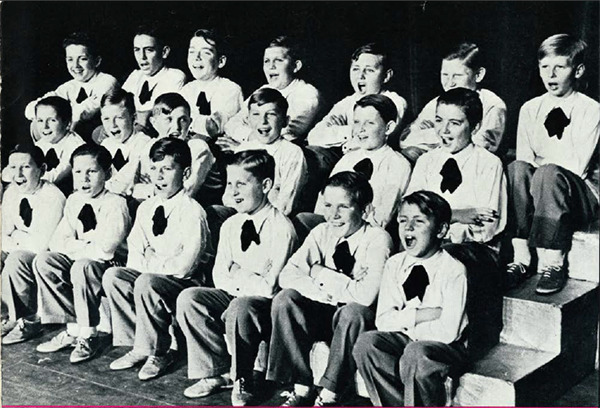 A week before Christmas 1938, Kurt joined members of the choir on the journey of a lifetime . . . but not all of them made it aboard.
"There were four boys who were to come with us, but their voices were breaking or already old and Dr Gruber thought they wouldn't last, so he replaced them with four other boys . . . and the boys who missed out came to see us off at the railway station," Kurt recalled.
"We then travelled to Germany, to Bremerhaven, got the boat to Hamburg and then headed across the Atlantic to New York. I remember seeing the statue as we came into the harbor."
From New York, choir members were conveyed by bus throughout the American states and on to southern Canada for a succession of recitals. Five months later, they found themselves in San Francisco, where an awaiting boat ferried them to Hawaii, Samoa, Fiji, New Zealand, and finally Australia, for a series of nationwide concerts through the latter part of 1939.
Following the declaration of war, and on the invitation of the then Archbishop of Melbourne Dr Daniel Mannix, Kurt and his fellow choirboys returned to Melbourne with Dr Gruber and choral teacher Dr Otto Sternberg. Though Dr Gruber and Dr Sternberg were both interned in a prisoner of war camp at Tatura (and Dr Gruber was later deported), the boys formed the nucleus of the new Cathedral Choir.
In return, Dr Mannix arranged for each of the boys to be billeted out at no cost to foster homes in the inner city area and schooled at Parade East Melbourne, the 'Old Bluestone Pile'.
Kurt and Franz Onger were both sent to a dwelling within walking distance of the College, at 21 Brunswick Street, opposite Cathedral Hall in North Fitzroy - under the watch of Mrs Rae, a Bendigo-born widow, whose husband died without leaving a will.
"Franz was one of the first to be billeted out and I was one of the last because I was young (and) they (the organisers) thought I might be too much trouble . . . (but) she (Mrs Rae) took me in through the goodness of her heart," Kurt said.
For the next few years, Brunswick Street was home to Kurt, and so too Parade, with Mrs Rae providing the meals and shelter, and Dr Mannix the schooling and textbooks. Kurt recalled that he and three fellow choirboys were placed in combined lower grade classes at East Melbourne from around October 1939 "and none of us knew any English . . . we could do the maths but nothing else".
"I remember the teacher once sent the four of us over to the Fitzroy Gardens to draw The Fairy Tree," Kurt said. "None of us could draw except Herbert Strommer, whose mother was an artist. Herbert drew The Fairy Tree and it looked like a photograph."
As the days passed, Kurt kept in regular correspondence with his parents in Vienna, although restrictions were such that only one letter per annum was permitted by way of the Red Cross. Did Kurt always expect to be one day reunited with them? "Like most of the boys of the choir I always thought I'd go back," came the reply. "When the war broke out none of us knew how long it would last –another two or three weeks perhaps – but it didn't work out that way of course."
In the years beyond his time with the College and the Cathedral choir, Kurt lived with Mrs Rae and her three daughters Mary, Madeleine (whom he would later marry) and Margaret. He pursued his studies at Melbourne University and completed a BA majoring in English. He then embarked on a career in teaching - firstly at Xavier Preparatory campus, Burke Hall, during which time he completed two more subjects to earn his degree.
Naturalised as an Australian on turning 21, Kurt furthered his teaching at secondary level, initially at a College in Sunshine and later at Ivanhoe Grammar for what would be a 25-year association until his retirement.
Along the way, Kurt fathered two children – a son Damien, who is himself an Old Paradian, and daughter Anne.
In 1979, more than 40 years after setting sail on that momentous world tour, Kurt completed an emotional homecoming to Vienna. He returned to the old home which was just as he remembered it, and was reunited with his beloved mother Poldi, sister Trudi and her four children – his father Franz having died some 14 years before.
"My Mum was expecting my wife and I at Christmas, but we arrived about three weeks before," Kurt recalled.
"We arrived at night time and when we climbed the 100 stairs of the old building and knocked on the front door to the home there was no answer - so I climbed down the 100 stairs again to speak to the person in charge of the whole building, and he said, 'She's there . . . she's home'.
"I climbed back up the 100 stairs and knocked and knocked, and eventually she opened the door . . . and normally she refused to open the door to anyone unless she knew who it was."
In thinking back to that pivotal moment in Perth back in '39, Kurt conceded that he always considered himself amongst the fortunates of Dr Gruber's Viennese choral ensemble.
"We were lucky, because those four boys who were dropped from the choir were all killed in the war . . . every one of them," he said.
Kurt Franz Schuster died last Tuesday week (January 21). He is survived by his son Damien, daughter Anne, their respective spouses Sharryn and Darren, and five grandchildren.
His beloved wife Madeleine predeceased him.
A rosary and requiem mass for Kurt will be offered at St Mary's Catholic Church, 204 Grimshaw Street, Greensborough, this Friday (January 31), commencing at 10.30am.
At the conclusion of mass, the funeral will proceed to Fawkner Memorial Park, 1187 Sydney Road, Fawkner, for interment.