They also heard from Leo Collins and Peter Hudson of the Class of 1970, and Ray Bongiorno and Andy Walsh of the Class of 1971, who shared their reminiscences of the Bundoora Campus of 50 years ago.
In attendance was:
Parade College Principal Andy Kuppe and Whitefriars Principal Mark Murphy, together with members of the College's Leadership teams and the two current vice-captains Jacob Beattie and Luca Franco;
Vietnam veterans Ian Dunn (1962), Ted Heffernan (1956), long-serving College teacher John Joss, Dan

McCrohan (1964), Paul McCrohan OAM (1963), David Millie MBE (1954) accompanied by his wife Eva, Kevin Pilkington (1963), Michael Prendergast (1966), Ken Silman (1963) accompanied by his wife Karen, and Paul Stock (1964) - together with the Diamond Valley Vietnam Veterans President Peter Blackman, Secretary Alan Comben and John Stretch; and

Anthony Lamers (1995), a veteran of Afghanistan and the Middle East.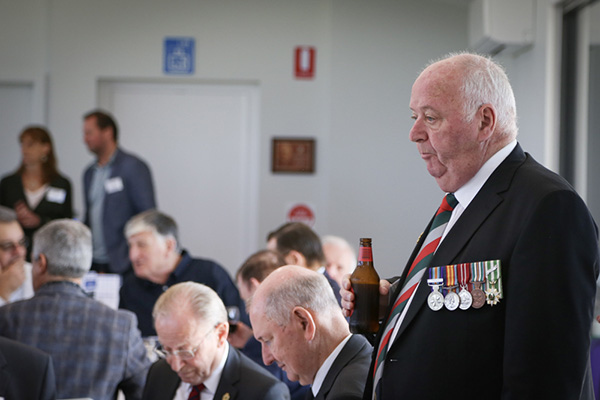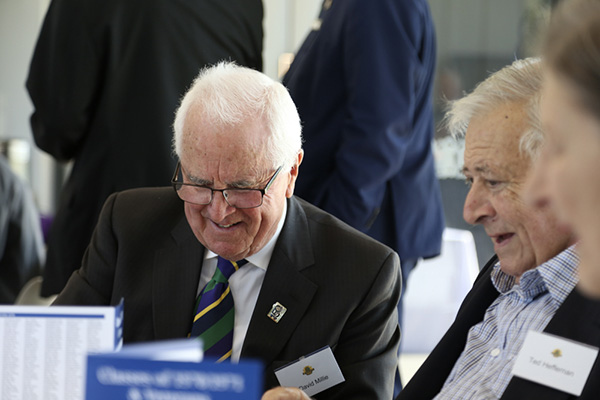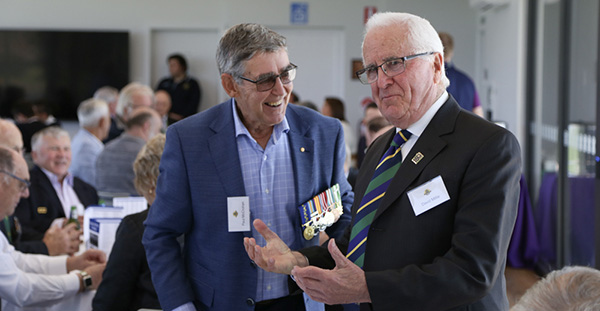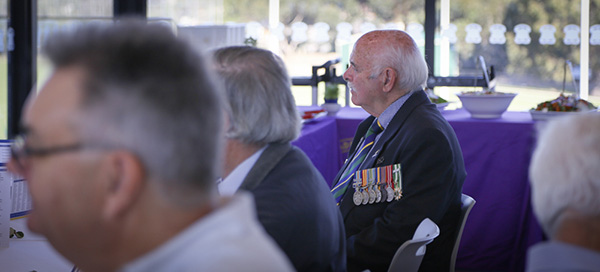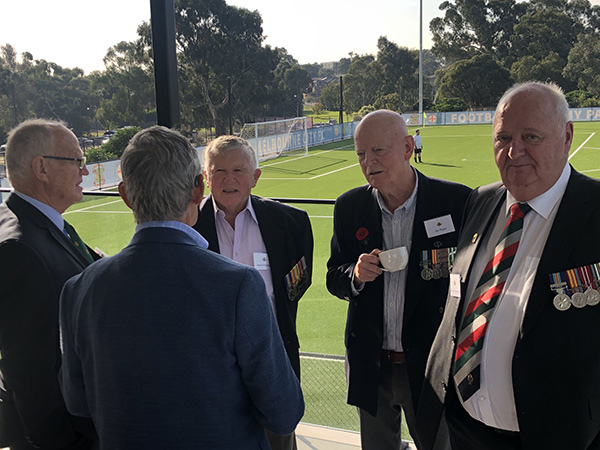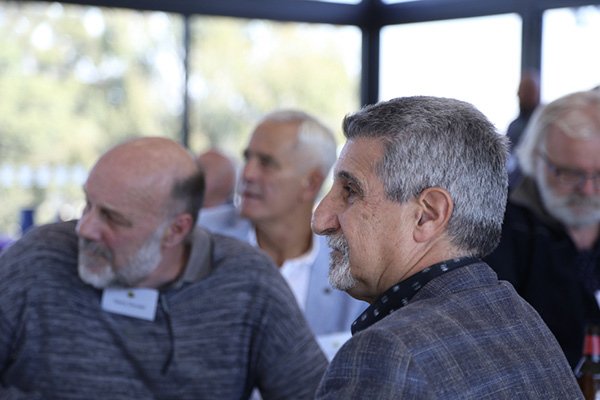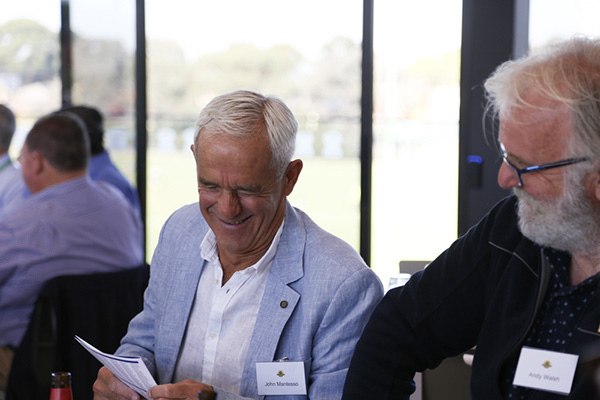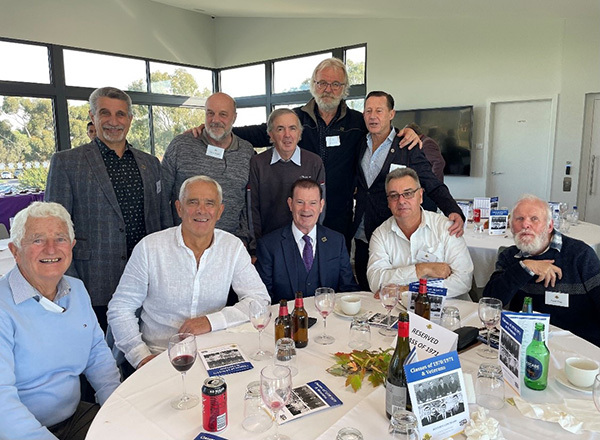 Parade College Advisory Council Chair Ray Bongiorno (1971) was also amongst the attendees, as were his fellow '71 students Leighton Browne, Garry Donald, Peter Gaut, Richard Gooden, John Mantesso, Kenneth Parker, John Pearce, Robert Peoples, Jack Ryan, Michael Stokes and Andy Walsh.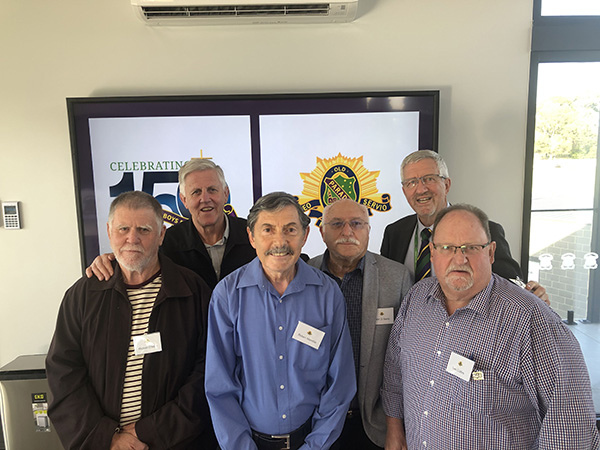 And from the Class of 1970 – Leo Collins, John Di Santo, Peter Hudson, Robert Mandile, Peter McIlwaine, Kevin O'Mara and Michael O'Mara.
Former Old Paradians' Association President Lewis Derrico, the 1974 Parade College Captain, was also present.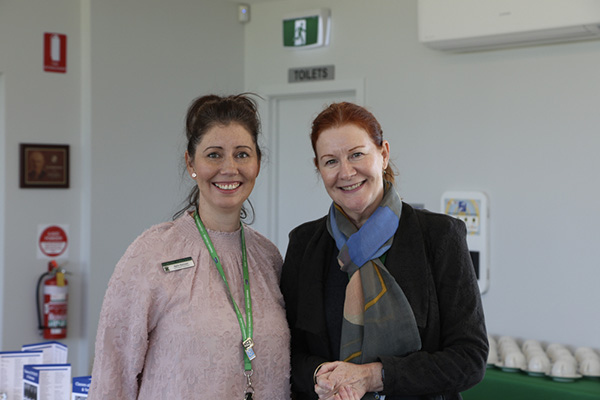 The boys then took their places in the respective teams meeting Whitefriars, as guests watched on at the Luncheon's conclusion. Parade took line honours to the tune of 25 points in Australian Rules, and a staggering 15-nil in the world game.
To round out a memorable afternoon, Joel Fitzgerald was later presented with the Phonse Kyne Trophy for Parade's most courageous player in the match with Whitefriars - as his mother Renee, great uncle Ken, grandfather Terry, their respective wives Karen and Lorraine proudly watched on.
The following is an edited version of Parade Principal Andy Kuppe's earlier address to the Luncheon gathering: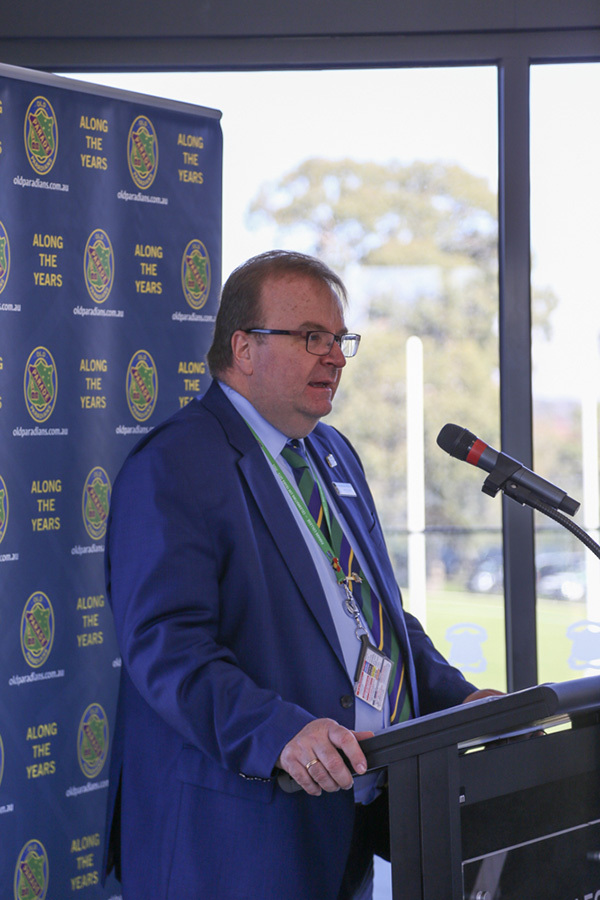 Good Afternoon.
Welcome to Parade College.
I acknowledge this afternoon that we gather on the ancestral lands of the Wurundjeri-willam people of the Kulin nation. I pay respect to the elders of the community - past and present - and extend my recognition to their descendants past, present and emerging.
Today we gather with Whitefriars' College to honour those members of our College Communities who have served in the Armed Services. We also acknowledge the Parade College Classes of 1970 and 1971 whom 50 (and 51) years ago were amongst the first graduating classes at this Bundoora Campus.
This year Parade College celebrates 150 years. We're probably one of a very select group of schools that have had Old Boys serve in every conflict that Australia has been involved in. in World War One, 193 former students of Parade are recorded as having enlisted for service, 24 of whom were killed in action; in World War Two 1067, 34 of whom did not return – and in Vietnam 55 with one lost. We are trying to continually update any Old Boys who served in combat overseas (and) it's great that Anthony Lamers – Class of 95 who served in Afghanistan and the Middle East – is also in the room.
I am grateful to John Joss, former staff member who has done so much to include and acknowledge Vietnam Veterans in particular but all veterans. John taught me Accounting when I was here at school. When I say he taught me, we were both timetabled to be in the same room a number of times each week! As a student, I would sometimes try and distract teachers from setting work by talking about the football, holidays etc. I remember being excited in Year 12, because I found a photo of John, rifle in hand, serving in Vietnam. I thought we were guaranteed a few boys' own adventures of 'Jossy's' exploits in Vietnam. I quickly learned that Jossy was not the least bit interested in talking about Vietnam at all. Even as an immature 17 year old, I knew not to push it and it was back to the doctrines and conventions of accounting. In speaking with Jossy as an adult, I know that it is only the last 10 – 15 years, that he is ready.

It's a reminder that in honouring those who have served, we are not honouring war. I'm yet to speak to a serviceman that yearns for war. There's no glory in war. War is a last resort. What we do is honour those that have placed our protection ahead of their own wellbeing. Those that teach us about sacrifice.

Can I ask all those who serve or have served in the Armed Forces to please stand.

Can I also welcome again the Classes of 1970 and 1971. It's great to have you back at the College. Can you all stand? We celebrate you also today.

Why gather before some Football games? When I did a Bachelor of Theology, I had the privilege of taking Church History with a towering figure in the Australian Church, Fr Austin Cooper.

He credits two aspects of Australian Life that led to breakdown of sectarianism and racism in Australia: Country or Suburban Sport and serving in the armed service during war. Perhaps serving during war is obvious: if you were to put your life into the care of a fellow soldier you had to put aside any differences. In the heat and trauma of battle, differences about religion, race or skin colour become less and less significant.

But country or suburban football?

Well if you want to field a football team in a country town: you need to get over your petty prejudices. You might have to play and train alongside Catholics and Anglicans, Baptists and Presbyterians, Jews and Muslims.

Damian Callinan (Class of 1982) wrote a play that mas made into a movie, The Merger, that takes up these themes in a modern setting. It's a great film, if you haven't seen it, it's now on Foxtel.

As we enjoy each other's company over lunch today, and before a game of schoolboy AFL and Football (Go Parade) let us remember that there is much more that unites all of us on this seemingly fragile planet than divides us. Let's remember especially those that gave their lives in that cause.

Lest We Forget