If the answer is yes, then the Old Paradians' Association is extending an invitation to you to join Parade's 1970 Brownlow Medallist Peter Bedford at a Luncheon prior to the much-anticipated Parade-St Bernard's match at the Garvey Oval.
On Anzac Day eve, Wednesday, April 24, the pre-match Luncheon will be held in the Frank Mount Social Room. It is here that the Association has extended an invitation to any player who was part of Parade's Premiership-winning teams in either the ACC or Herald Sun Shield to relive past glories and support the College's current players as they do battle with St Bernard's for the Madden-Bedford Shield.
Old Paradian Leo Collins has homed in on the College's Premiership-winning teams of 1962, '64 and '67 (all shared with St Bede's). But the Association welcomes former players from each of Parade's 22 victorious 1st XVIII teams since the Second World War - including the College's most recent Premiers of 2009 and 1999 who this year celebrate their respective 10 and 20-year reunions.
The Tony McKay-coached '99ers, which included the College's current Teacher Health and PE Ben Shelton in their ranks and was ably led by their captain the late Daniel Sage, knocked St Bernard's over in the big one to secure Parade's 1st XVIII Premiership hat-trick in the ACC.
Ten years on, Parade again prevailed, this time with a shock and awe showing against St. Joseph's Geelong, with William Botoulas the recipient of an Old Paradians Football Club award for his best on ground showing in the 29-point win. Also part of the team was Ben McNiece and Adam Marcon, future League footballers for Essendon and Richmond respectively.
Rob Peckham, who coached the team to victory alongside Craig Seckold ten years ago, said that he had kept in touch with a few of the players since that triumph "and conversation invariably gravitates to that momentous day in 2009".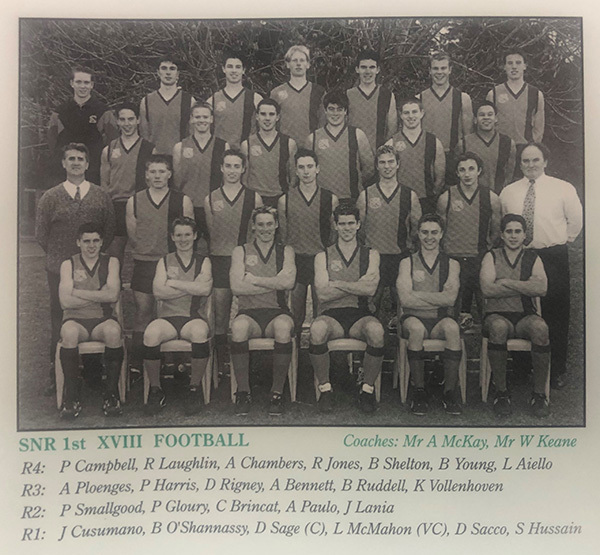 "St Joseph's v Parade was pretty much chocolates v boiled lollies - the highly-regarded big-name team v the no-name, non-nonsense boys from the north," Rob said.
"We'd been beaten by Geelong to the tune of nine goals on Skilled Stadium earlier that season. To turn that around on the biggest day of the football year proved that a champion team will always beat a team of champions, especially when underestimated.
"As any true brotherhood, the boys played as one all day - and while it was hard to choose one player above the rest, the unanimous cheer that went up when Will Botoulas was named Best on Ground best reflected the admiration for his supreme effort in locking down a highly-regard draft prospect."
Rob said he hoped to catch up with as many members of the 2009 team as possible at the luncheon "so that we can all look back on what was an incredibly proud moment in the history of the College and see that pride reignited when today's boys take on St Bernard's."
Any former 1st XVIII Premiership player wishing to attend the Bedford-Madden Luncheon, commencing 12 noon, Wednesday, April 24 in the Frank Mount Social Room, can register here
Cost is $40 (inc. carvery, tea and coffee, with drinks at bar prices) and dress is neat casual. RSVP date is strictly Wednesday, April 17. For further info, contact Tony.DeBolfo@parade.vic.edu.au