"We said to ourselves 'if we can keep the scale 'human' not 'monumental', if we can keep the design truly 'functional', if we can keep it 'simple', 'direct', 'economical' in every sense' then we would have achieved something truly worthwhile."
These are the words of the late Old Paradian Rene Stella (1952), Chief Architect, in recounting his inspection of the proposed site of Parade College's Bundoora Campus in early 1965.
The 80-acre Bundoora site earmarked for the build was part of a 300-acre property secured by the Christian Brothers in the 1940s – had been made available to Parade by the Provincial Brother Garvey, following an approach from the then President of the Old Paradians' Association Mr Justice James Gorman. A subsequent Building Appeal Fund, chaired by 1951 College Captain Noel Purcell, realised $245,000 and through the "good offices" of the Old Paradians and parents, a loan of $750,000 was organized.
A number of Old Paradians also committed their talents and energies to the planning process for the new school – amongst them the consultant architects Geoff Borrack (1954), Kevin Dynan (1944) and Brian Toner (1943), consultant engineer Michael Renehan (1948) and the chief engineer Ron Barnett (1950), who well-remembered his involvement at what was an incredibly difficult period of his life.
"It's a long time ago and my memory is not clear, but I can include a personal memory of my own from that time," Ron said recently.
"In February 1966 my wife Judy died at the age of 31, and I put in a request to Rene to resign from the design team. He mumbled, said no, and told me that I didn't have to do any work for the design team for a little while.
"I kept working full-time as an engineer, but I stopped working on the Parade project - and yet I did come back later to finish some of the work with which I was involved. I had actually deferred the grieving because I had four little kids under eight, one of them five weeks old who was placed into a baby home at Footscray for three months, and I did what I could do to best look after the two kids at school and the toddler."
Ron recalled that the Old Paradians Planning Team, whose members also came up with the designs for the Association's Ski Lodge on Mt Buller, was initially convened to investigate extensions of the 'Old Bluestone Pile'.
"That was the initial brief," Ron said. "I remember we looked at building on the grounds there, but gosh there was only a little bit of asphalt and the handball courts and that was it. We also looked at putting intermediate floors in the very high ceilings of the existing classrooms and building on the side of the old stable which was a gymnasium if I remember rightly, but I don't think it was treated terribly seriously."
As for the Bundoora project, Ron remembered heading down to Rene's Carlton office on Lygon Street after working hours to complete his designs. Heading bush to Bundoora was also commonplace for Ron in those early years, and as he dryly suggested: "It was a long way from civilisation".
"Bundoora was just a big paddock and I can remember heading out fairly often when we were getting the surveyors to provide information. I can also remember going out to see the completed building, although I wasn't involved in the construction management side of it," Ron said.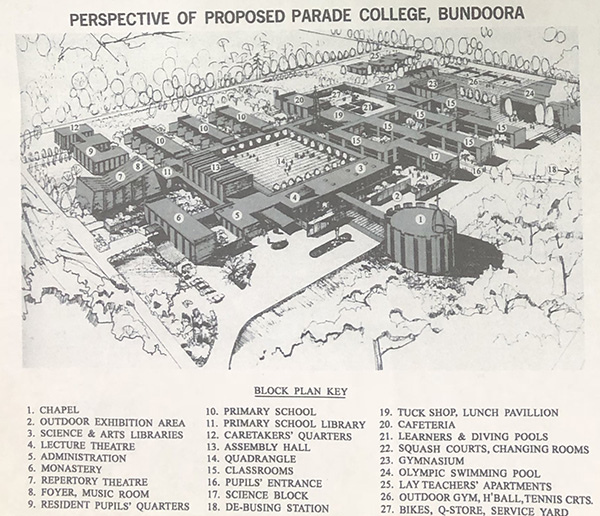 "Let's be clear here, there was a stage 1, that was the sum total of my involvement, and it just grew and grew - but the experience was exhilarating, demanding, challenging, all of the above.
"I can remember going to the authorities asking 'Where are you sewer drains, where are your water drains and where's your water supply?' and them telling me 'Oh there miles away. We can put them in for you but you'll have to pay for them'. These were mind-boggling problems, but in the case of the sewerage issue we overcame that by building our own sewerage treatment there and we built a reservoir for storm water."
Rene Stella's plan for the creation of the new College in Melbourne's outer north was as ambitious as Brother Nash's commitment to the transfer of Parade from East Melbourne to Bundoora was bold. As Rene noted in his report of early '65: "The overall plan was created to allow the phases of the building operations to be programmed and end ultimately in an architectural unity of volume and time, worthy of the great College the complex represents".
For Ron, the Campus's growth these past fifty years vindicates that forward-thinking, and he is immensely satisfied that the campus carries his thumbprint.
As he said: "I'm certainly proud of it. I believe it's there for the next generation, the next and the next."