Peter Phelan, a final year student of Parade College in 1951, former priest of the Archdiocese of Melbourne and retired District Court Judge, has died in New South Wales at the age of 84.
A College contemporary of the 1951 Parade Captain Noel Purcell, and the older brother of the '53 College Captain (later Victoria Police Commander) the late Barry Phelan, Peter was ordained almost 59 years ago to the day, in 1959.
The photographs which appear with the following extract featured in the December 1959 edition of The Paradian, with the ensuing edited article penned by John A. Ball.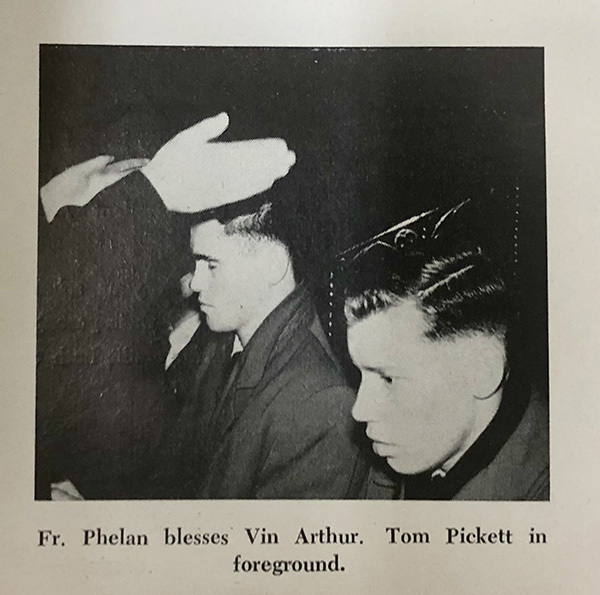 "The year 1959 saw yet another two names added to the honour roll of Old Paradian priests, those of Rev. Fr. Peter Phelan and Rev. Fr. Tim Malone, O.F.M. Father Phelan was ordained on the 26th July and Father Malone received the sacrament earlier in the year.
Both priests accepted invitations to return to their "Alma Mater" to celebrate a Mass for the Brothers and boys. On Thursday, 30th July, High Mass was sung in St. Patrick's Cathedral by Fr. Phelan, with Fr. Malone as deacon. The music was provided by the Cathedral Choir, under the direction of Dr. Percy Jones, and a choir of Old Paradian students from Corpus Christi College, Werribee.
Later in the morning a reception was held in the Cathedral Hall. Those present were Bishop Fox, Re. Frs. P. Jones (College Chaplain) and H. Deakin, Rev. Brother Garvey (Provincial of the Southern Province), Mr. Bob Shingler (President of the O.P.A.), the parents of the new priests, and Old Paradian students for the priesthood. Brother Naughtin offered congratulations to the priests, and the college Captain, Vin Arthur, presented each with a memento of the occasion on behalf of the boys. Bishop Fox then spoke on the need for more priests and religious, and Brother Garvey stressed how much Australia needed well educated Catholic men in society. Mr. Bob Shingler made a presentation to each priest on behalf of the Old Paradians' Association.
Both priests, speaking to the boys, asked them to pray so that they might perform their priestly duties ably and well. To celebrate the occasion a holiday was announced for Friday.
The function concluded with the general blessing of the boys by both priests.
Last Wednesday evening, the following tribute to the late Peter Phelan, slightly edited, was circulated by Dr Val Noone, himself a former priest of the Archdiocese of Melbourne;
Dear Friends,
Greetings.
I am writing to share the sad news that our generous and hospitable friend Peter Phelan died this afternoon at 5.30, aged 84 years, at his home in Colo, New South Wales, in the loving company of his wife Marian and his daughter Samantha and other members of his family.
Born in Melbourne, son of Jim and Tess, brother of Barry and Anne, Peter nonetheless lived in the Sydney region since 1968. He worked as a lawyer and later a judge and, among other things, was a keen supporter of the Sydney Swans.
His first calling was as a Catholic priest of the Melbourne archdiocese. He resigned in 1968 after being sacked by Archbishop James Knox for criticising Pope Paul VI's ban on birth control. Soon afterwards he married Marian.
Peter's death on 25 July is an amazing coincidence. That is the date in 1968 when Paul VI officially signed his encyclical letter, Humanae Vitae / On the Regulation of Births – it was released to the public four days later.
Subsequently, Peter, then assistant priest at St John's, Heidelberg, appeared in an ABC television discussion on 'Catholics and Contraception'. He said: "There are limits to obedience, you know. Conscience is one such limit. You can't be obedient to something that you feel in your heart and mind is false, as I think, the Pope's encyclical is false".
A protest meeting of lay people to support him and another sacked priest, Nicholas Crotty, gained good media coverage. They said that "Father Phelan's criticisms were mature, well-considered, and the result of a conscientious desire to serve the Church. While we applaud the spirit of charity with which Peter has reacted to his suspension, we reject the view that the good of the Church requires its bishops to engage in such acts of repression". A group of parishioners wrote to the press to express their appreciation of Peter's pastoral work.
In 1968 Peter and others struck a blow for freedom of speech, which we want to make sure is not forgotten. That is just one of his many achievements but I had to talk about it today because of the uncanny timing of his death.
Back then in 1968 the famous poet Bruce Dawe wrote a poem about Peter entitled 'At Mass' which ends with the lines:
"Snap-frozen in some seminary,
the Word, secured against the ubiquitous shock
of honest air or breath, rots as it thaws".
Pete was outstanding in his first vocation as he was also in his second vocation as a husband and father.
Peter Phelan's funeral will take place at 10.00am tomorrow, (Tuesday, 31 July) at Somerset Lodge, 411 Upper Colo Road, Central Colo, New South Wales.
Best wishes and every blessing,
Val Noone